earrings: avon (thrifted)//blazer: vintage (thrifted)//dress: vintage (thrifted)
belt: target//shoes: target (thrifted)
Looking classy and being classy are two TOTALLY different things, though. So a more accurate title would be "Because Sometimes, I Think I Look Kinda Classy".
Being classy...that's taking an insult in stride.
smiling just because I can.
being grateful.
lifting someone up.
letting something go.
having a good attitude.
making sacrifices.
accepting sacrifices.
respecting others.
respecting yourself.
looking outward.
looking inward.
balance.
And so this week - I'll be classy.
P.S. By the way, I think this is the new format my Happiness Project is going to take - goals I make weekly based on my current needs/impressions. I'm thinking this will be easier to keep up and stay motivated with. Here goes nothing!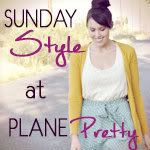 MoMoMod Style Showcase